Dr. Milcah Njoki Nyaga Profile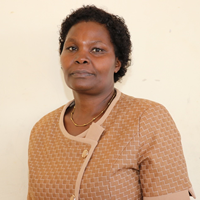 Name: Milcah Njoki Nyaga
Title/Qualification: PhD (Educational Psychology)
Position: Senior Lecturer/ School of Education & Social Sciences Board Member
Department: Education
School: Education & Social Sciences 
Contact Address: 6 Embu- 60100
E-Mail: This email address is being protected from spambots. You need JavaScript enabled to view it./This email address is being protected from spambots. You need JavaScript enabled to view it.


BIOGRAPHY
Dr. Milcah Nyaga is a senior lecturer in psychology at the University of Embu in the Department of Education. She obtained Doctor of Philosophy in Educational Psychology at Kenyatta University. Her research interests are particularly in the Human Development, Behaviour, Counselling, Measurement and Evaluation. In addition, she has published a motivational book entitled Good Choices Bright Future which is tailored to suit the needs of adolescent. Moreover, she has a lot of interest on mentorship and empowering young people as well as old generation through training, modelling, motivational speaking, guidance and counselling. She is renowned Psychotherapist.
EDUCATION
2015-Doctor of   Philosophy (Educational psychology) - Kenyatta University
2007- Masters in Education- Kenyatta University
2004- BA Counselling psychology- International Caribbean College
2000- BED- University of Nairobi
Administrative Experience & Service Responsibility

July 2017 - Present              Director, Practicum Placement
Nov 2016 – July 2017                    Coordinator, Teaching Practice at School of Education and social Sciences
2017 - Present                               Coordinator, Mentorship Programme in UoEm
June - Oct 2016                             Examinations coordinator, Department of Education and social Sciences
Nov 2016 - Present                        Education Courses Advisor
Nov 2016 - Present                        School Based Course Coordinator
February 2017 - Present                Mentoring Committee
September 2017- Present              Dress Code Committee
June 2016- June 2017                   ADHOC Committee on Library & Information Science Programmes
August 2017 - Present -                Chaplaincy Committee
Area of Specialization:
Human development and life span
Statistics
Tests and Measurements
Psychological and Christian counselling
Research methods
SUPERVISION OF STUDENTS
S/NO
 Degree  
Thesis/Project Title
Institution
Status
Student name
1.
PhD   
Performance Ranking on Mathematics Teaching and Learning: A Case of Secondary Schools in Embu County, Kenya
  
University of Embu 
 On-going   
Samson Murithi Njiru
2.
PhD  
Planning for Implementation of Effective Guidance and Counselling Programmes on Psychological Distress among Students in Public Secondary Schools in THARAKA-NITHI COUNTY
University of Embu 
On-going
Beatrice N. Mugambi
3.
Masters
Impact of Devolution on Early Childhood Development Education Curriculum Implementation: A Case of Nyandarua West Sub-County, Kenya
University of Embu
On-going  
Stephen Murungaru Kagema
CERTIFICATE OF ACCREDITATION
Kenya counsellor and Psychologist Association on 30th August 2012
CERTIFICATE OF APPRECIATION
Certificate of appreciation awarded to Dr. Milcah Nyaga for facilitating Family Life Programme held from 1st October to 3rd December, 2017 at Deliverance church Internation Blue Valley, Embu given on the 10th day of December, 2017.
Facilitated Training on Effective Examination Setting, Administration and Processing at University of Embu on 22nd May 2017
Awarded by A.C.K. Kigari parish in recognition of being a Guest Speaker during Parish Education Day on 31st Day of May 2015
Awarded by Kenyatta University, Embu Campus for encouraging Students on 12th March 2015  
CERTICATE OF COMPLETION
ISO 27001:2013 Information Security Management System (SMS) Implementation Course by Maier Consulting Limited on 17th – 19th May 2017
ISO 9001:2013 Quality Management System Implementation Course by Maier Consulting Limited on 9th -11th May 2017
PRESENTATIONS

Quality Education for life and career skills. A presentation at KanjuriHigh School - Karatina Academic day on 10th February 2018.
Introduction to leadership and styles of leadership strategies. A Presentation to Mt. Kenya East High School Students` Council leadership induction on 3rd
February 2018.
Leaving a legacy as branded product of University of Embu. A presentationto Fourth students during mentorship of Beyond your degree on 28th March 2018.
Effective teacher in 21st century: A presentation to teachers of Kirege primary school on 3rd November 2017.